March 12
A Living Hope 
1 Peter 1:3-9
Hope is both a strong belief and the anticipation that something good is going to happen. When our goals are not achieved, we may experience discouragement, which over time can turn into depression and even despair—the absence of hope.
How can we remain optimistic in the face of unmet expectations? First, we're to remember the reason for our confidence: our relationship with Jesus. At salvation, we were born into a living hope (v. 3)—God made us a "new creation," and we are no longer in bondage to the old sin nature (2 Cor. 5:17 niv). His Spirit lives within us. We have been made co-heirs with Christ, and our true home is in heaven with Him. Nothing can alter our familial connection with the Lord.
Second, to maintain a positive outlook, we must spend daily time in the Scriptures. Romans 15:4 says that the Bible was written to give us encouragement and hope. The Psalms can be especially helpful in difficult times because they express the feelings we have and also tell us about the comfort available from God.
Third, we rely on the Lord's faithfulness. Trusting in Him will never disappoint us because all of His promises are yes in Christ (2 Cor. 1:20).
Believers should not react to trials as the world does. We're to live by faith—"being sure of what we hope for " (Heb. 11:1 niv). When circumstances overwhelm you, shift your focus to the Lord. Read the Scriptures to find encouragement, and be reminded of what is yours in Christ (Eph. 1:3-8).
For more biblical teaching and resources from Dr. Charles Stanley, please visit www.intouch.org.
Click here to watch Dr. Charles Stanley & In Touch Ministries Video Online
and
click here to listen to Dr. Stanley at OnePlace.com.
FEATURED RESOURCE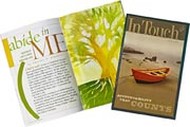 In Touch Magazine
Stories that Inspire, Teaching that Renews
If you like Dr. Charles Stanley's radio program, TV broadcast and books, then you'll love his free, award-winning monthly magazine. It's full of informative resources that will touch your heart and invigorate your faith. Every month, In Touch magazine brings readers daily devotionals from Dr. Stanley, in-depth Bible studies, inspiring articles and insightful teaching to help strengthen your family and your relationship with God. Click below to start your free subscription to In Touch magazine. 

Used with permission from In Touch Ministries, Inc. © 2009 All Rights Reserved.