March 13, 2009
The Judge and the Judgment
John 5:22-24
Anyone who's been in a courtroom knows the atmosphere of authority and fear that surrounds the judge as he enters and takes his seat. One day, everyone will stand before the ultimate Judge—the Lord Jesus Christ.
Coming before a judge can be a frightening experience, but knowing that he is good and fair can bring reassurance. When we appear before Jesus, we will be standing before the One who is righteous and just. The Lord is impartial, and He will make decisions with all wisdom and complete knowledge.  His standard for justice will be truth, not opinions.
Jesus is the only one qualified to be the judge of all mankind. He has been given this job by His heavenly Father. Being the God-Man, He can sympathize with our weaknesses and understand our temptations. That is because He, too, has suffered and been tempted, and yet He never sinned (Heb. 4:15).
Scripture promises believers that they won't be condemned in the judgment, but will stand before Christ to give an account of their lives (Rom. 14:10-12). God's purpose is not to punish or shame them but to evaluate their lives and reward them for their good works. This will not be a public humiliation, but a private time of revelation with the Lord.
What comfort we have in knowing that our Judge is also our Savior, who loved us enough to die for us. Christ is for us, not against us. May this motivate us to love and live for the one who has delivered us from the fear of punishment (1 John 4:16-18).
FEATURED RESOURCE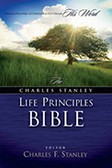 The Life Principles Bible
This Bible combines the wisdom of Scripture with the principles that guide Dr. Charles Stanley's life and empower his ministry. Order your copy.
To see more resources from In Touch Ministries, please visit us at www.intouch.org or go directly to our bookstore at In Touch Ministries.
Used with permission from In Touch Ministries, Inc. © 2008 All Rights Reserved.