In Touch Daily Devotional
by Dr. Charles Stanley
---
March 18, 2008 – Becoming Whole – Romans 8:33-39
Modern society has many "solutions" for unhappiness. Power, love, and substances (whether legal or illegal) are seen as ways to counteract emotional emptiness, but the happiness they offer soon drains out again. Only God's transforming power can change someone with a broken spirit into a content Christian who understands his value.
To find wholeness, a person must start by receiving Jesus Christ as Savior—the sin that stands between him and God has to be removed. Then, with the Holy Spirit's strength, he will be able to find the courage to confront past disappointments, hurts, and sins that may have contributed to his feeling unworthy of the Lord's love.
Someone with a sense of wholeness feels satisfied with life. He knows he is loved, which leads to a good self-image and the ability to love others. Hardship is inevitable in this world, but it doesn't devastate him or cause him to grumble or cast blame. Why? Because the born-again believer knows that God has promised to work everything out for his good (Romans 8:28).
In contrast, someone who feels fragmented or empty often has the opposite experience. He may look okay on the outside while struggling within. This can even be the case with Christians who haven't learned to experience God's love. In fact, I was a pastor for several decades before I really felt the Father's love for me—only then did I become truly complete.
The Lord can and will make His love known to believers who ask. And it is this love that bring wholeness.
FEATURED RESOURCE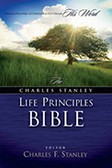 The Life Principles Bible
This Bible combines the wisdom of Scripture with the principles that guide Dr. Stanley's life and empower his ministry. Order your copy.
To see more resources from In Touch Ministries, please visit us at www.intouch.org or go directly to our bookstore at In Touch Ministries.