March 19, 2009
Parents Setting a Course
Ephesians 6
God gives parents the responsibility to set a course for their children's lives. Are you "building a highway" or "digging a ditch"? A child is influenced by our words, decisions, and character. No parent can raise perfect offspring, but we can and should do our best to bring up youngsters who serve Him.
My mother enforced obedience. I learned quickly that the degree to which I disobeyed was the degree to which she disciplined me. She occasionally used a switch to bring me around to her way of thinking. But even more painful were her well-deserved lectures. Mother gently but firmly explained that she worked hard to care for us. While she was at the mill, she expected me to do what was right. By the time her talk ended, I was usually in tears. I understood repentance long before I knew the word.
My mother loved me, so she demanded obedience. And when I didn't comply, she used discipline. She realized that I had to learn to follow her direction before I would listen to other authority figures or my heavenly Father. Of the Lord she always said, "Obey Him because He is God." Mother offered no more explanation than that, but with those words, she paved the way for someone else to extend my faith highway.
My grandfather continued my spiritual education. He said, "If God tells you to run your head through a brick wall, start running. When you get to the wall, He'll make a hole for it." In other words, obey God and leave the consequences to Him—the very lesson I encourage parents to model for their children.
FEATURED RESOURCE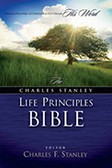 The Life Principles Bible
This Bible combines the wisdom of Scripture with the principles that guide Dr. Charles Stanley's life and empower his ministry. Order your copy.
To see more resources from In Touch Ministries, please visit us at www.intouch.org or go directly to our bookstore at In Touch Ministries.

Used with permission from In Touch Ministries, Inc. © 2008 All Rights Reserved.