March 19
A God We Can Trust 
Psalms 37
Throughout Scripture, we are admonished to trust in the Lord. When times are good, this doesn't seem like a difficult task. However, when trials arise, it is much more difficult to rely fully upon Him.
Yet it is always important for us to place our trust in the living God, especially when everything around us seems to be falling apart. That may well have been the situation that inspired the writing of Psalm 37.
Notice that in today's passage, the psalmist mentions several times that we should not fret (vv. 1, 7, 8). Distress over a situation is the opposite of trust, and fretting has ill effects. For one thing, it can take a toll on physical and emotional wellbeing. Another problem is that feeding worry can lead to evildoing: by attempting to manage the situation quickly in our human way, we may miss God's best solution. A third consequence is that others may not enjoy our company, so we could lose our effective witness for the kingdom.
What, then, is the antidote for worry and stress during a difficult time? Absolute trust in Christ. Psalm 55:22 says, "Cast your burden upon the Lord, and He will sustain you; He will never allow the righteous to be shaken." This means we are to lay all our burdens at His feet, believing that He is good, loving, and in control.
When trials arise, do you run toward the Lord? Or do you try to handle things yourself? He who created you can handle any difficulty and pain, even when it seems overwhelming. What He desires is your surrender and trust. It is in His arms that you will find rest for your soul.
For more biblical teaching and resources from Dr. Charles Stanley, please visit www.intouch.org.
Click here to watch Dr. Charles Stanley & In Touch Ministries Video Online
and
click here to listen to Dr. Stanley at OnePlace.com.
FEATURED RESOURCE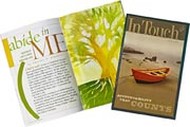 In Touch Magazine
Stories that Inspire, Teaching that Renews
If you like Dr. Charles Stanley's radio program, TV broadcast and books, then you'll love his free, award-winning monthly magazine. It's full of informative resources that will touch your heart and invigorate your faith. Every month, In Touch magazine brings readers daily devotionals from Dr. Stanley, in-depth Bible studies, inspiring articles and insightful teaching to help strengthen your family and your relationship with God. Click below to start your free subscription to In Touch magazine. 

Used with permission from In Touch Ministries, Inc. © 2009 All Rights Reserved.