In Touch Daily Devotional
by Dr. Charles Stanley
---
March 20, 2008 – The Lord's Other Cup – Mark 14:32-36 
            Paintings of the Lord's Table show one cup and one platter. The cup represents the blood Jesus shed to save us from sin. And the platter holds bread symbolizing His body, which was broken for us. What we don't see is the second cup that Jesus drank alone— one that made our salvation possible. 
            The phrase "drink from this cup" refers to a person's willingness to take part in an act. Jesus knew that He had come to earth for the purpose of dying for sin—in other words, this mission was His "cup." While praying in Gethsemane, our Savior asked that this cup pass from Him if possible; however, He would willingly submit to His Father's will. 
            Some people assume Jesus was asking to avoid the excruciating physical suffering of crucifixion. But even more difficult for Him to face were two spiritual agonies He knew He must undergo. First, our Savior would bear the world's transgressions, actually becoming sin on our behalf (2 Corinthians 5:21) and dying so that its power over our lives could be destroyed. The sinless One would know the weight, guilt, and sorrow of the incalculable wrongs committed throughout all time. But more than just experiencing the ugliness of sin, He would bear the Father's full wrath for all human iniquity. And second, because holy God cannot look upon sin, Jesus would be separated from His Father for the only time since eternity past, and He would have to bear this unthinkable burden alone. 
            Jesus drank from the cup of suffering, sin-bearing, and separation so that we can share in the cup of salvation.
FEATURED RESOURCE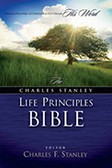 The Life Principles Bible
This Bible combines the wisdom of Scripture with the principles that guide Dr. Stanley's life and empower his ministry. Order your copy.
To see more resources from In Touch Ministries, please visit us at www.intouch.org or go directly to our bookstore at In Touch Ministries.