In Touch Daily Devotional
by Dr. Charles Stanley
---
March 24, 2008 – Jesus is Lord of All – Luke 1:26-38 
            In announcing Messiah's coming birth, the angel declared that Jesus would reign as King forever (Luke 1:33). Had we been there, we'd have looked for a baby born to a family of privilege and power. Yet, this King's earthly life was nothing like what most would expect. 
            Jesus was conceived by the Holy Spirit but was born the same way as any other human infant—through the mother's womb. Growing up in a home without special position or wealth, He probably learned the carpentry trade from His earthly father, Joseph, and used it to make a living in His younger years. 
            His public ministry began with the selection of ordinary men to be His disciples, including one—Matthew, the tax collector—who was despised. Jesus traveled from town to town, interacting with people, many of whom doubted and disbelieved Him. His teachings were regularly misunderstood and often opposed. At times even His followers turned away when they heard something they didn't like (John 6:53, 66). After serving the Father as an itinerant preacher for three years, Jesus was labeled a criminal, crucified between two thieves, and buried in someone else's tomb. Not too impressive a list of credentials for the One who rules the world as Lord (Matt. 3:3). 
            It is Jesus' "spiritual résumé" that gives us the true picture. His humility, self-sacrifice, total dependence upon God, and complete obedience—even unto death—are the marks of greatness in God's sight. Having fulfilled His Father's plan, the Son was given the name to which all will one day bow. Jesus is Lord of all.
FEATURED RESOURCE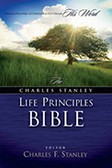 The Life Principles Bible
This Bible combines the wisdom of Scripture with the principles that guide Dr. Stanley's life and empower his ministry. Order your copy.
To see more resources from In Touch Ministries, please visit us at www.intouch.org or go directly to our bookstore at In Touch Ministries.