March 28-29, 2009
A Life That God Rewards
Matthew 25:14-30
Today's Scripture passage shows us one of the greatest rewards we could possibly receive from the Lord—His commendation of, "Well done, good and faithful servant." Just imagine hearing those words spoken to you by your Savior. What could be better than this?
Because such a tremendous eternal reward is at stake, we need to examine ourselves to determine if we are living a life that God will praise. Consider the following areas:
Your mind: When you wake up in the morning, is your mind bent toward God or toward all that you have to do over the next 12 hours? Your mindset will shape the rest of your day.
Your desires: Do you want to listen to God, walk in His ways, and let Him accomplish His will for your life?  As you begin to delight in the Lord, He will change your desires to match His.
Your deeds: Is obeying God the most important thing in your life? His desire is that you be a faithful steward who does what He commands.
Your purity: Do you tolerate sin in your life? A godly person readily confesses wrongdoing and keeps short accounts before the Lord.
Your time: Are you spending your time on worthless things, or are you investing it in the kingdom of God?
God is calling us to be faithful stewards of all that He has given us. Every day counts because our rewards for this life will be eternal.  How foolish to live for the world when we could live for Christ and hear Him say, "Well done!"
FEATURED RESOURCE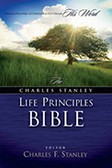 The Life Principles Bible
This Bible combines the wisdom of Scripture with the principles that guide Dr. Charles Stanley's life and empower his ministry. Order your copy.
To see more resources from In Touch Ministries, please visit us at www.intouch.org or go directly to our bookstore at In Touch Ministries.
Used with permission from In Touch Ministries, Inc. © 2008 All Rights Reserved.