In Touch Daily Devotional
by Dr. Charles Stanley
---
March 7, 2008 – That All May Know Him – 1 Timothy 2:1-8 
            A friend of mine recently described his interesting experience during a cab ride. Inside the taxi, a number of different religious symbols were visible, including those representing Christianity, Islam, Buddhism, and Hinduism. He asked why items denoting such contrasting religions were displayed, and the driver responded, "To protect me." When my friend questioned which one served that purpose, the man said, "I don't know. But I want to be sure that one will work, so I have all of them." 
            You might think that in America, it is obvious who God is: we can turn the TV on anytime and find a presentation of the gospel; radio stations across the country broadcast biblical sermons seven days a week; and some regions have a church on nearly every corner. Yet many people–even some of the men and women we see each day—still live in total ignorance of the one true God. 
            First Timothy 2:5-6 says, "There is one God, and one mediator also between God and men, the man Christ Jesus, who gave Himself as a ransom for all." That truth is the foundation for the Christian faith. Through the Son, we are forgiven and reconciled to the Father. 
            We have the opportunity to share with those around us what the Lord has accomplished on our behalf. Don't assume that everyone in your life is familiar with the good news of Jesus. Whether it's a taxi driver, a co-worker, a new friend, or your long-time neighbor, what can you do to help that person know—and want to follow—the one true God?
FEATURED RESOURCE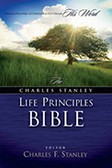 The Life Principles Bible
This Bible combines the wisdom of Scripture with the principles that guide Dr. Stanley's life and empower his ministry. Order your copy.
To see more resources from In Touch Ministries, please visit us at www.intouch.org or go directly to our bookstore at In Touch Ministries.