March 9, 2009 
The Key to Financial Blessing
Malachi 3:7-12
We could all use our own personal financial adviser to help us navigate the economic turmoil of our times. And according to the prophet Malachi, we have one—God Almighty. He has a plan worked out for our financial security.
His key to financial blessing is the simple principle of Exodus 23:19: "You shall bring the choice first fruits of your soil into the house of the Lord." In offering God the first of our earnings, we acknowledge that He is the source of everything and we are completely dependent upon Him. Old Testament believers were asked to set aside merely a tithe—or ten percent—of all that the Lord generously gave. Malachi equates keeping God's portion for oneself to robbing the Almighty of what belongs to Him (Mal. 3:8).
The Lord doesn't need our money, but He knows that we need to give. Doing so with a generous and willing heart displays the character of Christ in our lives. Remember, Jesus is a giver who gave His life for our salvation.
Generosity is a way to honor and worship the Lord. If our only expression of worship comes from the lips, we are missing the opportunity to demonstrate our love and gratitude for all that God has given us.
You can never out-give your loving heavenly Father. As you obediently offer Him the first part of your income, you'll find that He is faithful to His Word: He will open the windows of heaven and pour out blessing until it overflows (v. 10). In reality, there is greater financial risk in keeping than in giving.
FEATURED RESOURCE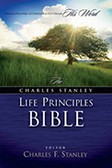 The Life Principles Bible
This Bible combines the wisdom of Scripture with the principles that guide Dr. Charles Stanley's life and empower his ministry. Order your copy.
To see more resources from In Touch Ministries, please visit us at www.intouch.org or go directly to our bookstore at In Touch Ministries.
Used with permission from In Touch Ministries, Inc. © 2008 All Rights Reserved.