In Touch Daily Devotional
by Dr. Charles Stanley
---
March 13, 2007 – A Lesson in Obedience - Matthew 16:24-26
Jesus spoke frequently about obedience. But today's followers sometimes misunderstand His lesson for the disciples in Matthew 16. Maybe this is because people naturally tend to avoid self-sacrifice and suffering—the frequent companions of obedience.
Self-service is the greatest enemy of obedience. Submitting to the Lord's will requires a person to deny himself of anything that doesn't fit God's plan. That means refusing those things which are evil. And, on occasion, we may also have to give up a desire that isn't in God's will for us but is okay for someone else. Just because something isn't sinful, that doesn't make it right for everyone.
Self-denial that is carried out in service to the Lord can also be described as death to self. We need to be willing to forfeit our desires and ambitions so we can submit to God's will. Then, we can surrender our selfishness and find a new existence as the Lord's servant. This new life should be marked by obedience and the Christ-like attitude we see in Luke 22:42, "Father… not My will but Yours be done."
A believer committed to an obedient lifestyle is determined to do God's will, even when it causes pain or loss. Sometimes, that means we may tearfully obey. And, other times, we'll beg Him for the strength to submit. But godly obedience causes our tears to dry and our hearts to know the peace that comes only from being a good and faithful servant to a loving Master.
FEATURED RESOURCE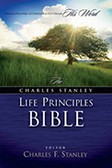 The Life Principles Bible
This Bible combines the wisdom of Scripture with the principles that guide Dr. Stanley's life and empower his ministry. Order your copy.
To see more resources from In Touch Ministries, please visit us at www.intouch.org or go directly to our bookstore at In Touch Ministries.