May 1, 2009
The Sinful Nature of Mankind 
Matthew 18:11-14
The English word lost is used in a variety of ways, almost none of which are positive. We lose keys, games, jobs, and even our health. But in comparison to the scriptural use of this term, all our earthly losses are trivial.
The Scriptures use lost to describe the condition of a person who is separated from God because of sin. When Adam and Eve rebelled against the Creator, sin entered humanity. It corrupted the nature of the first man and woman as well as that of every human being born thereafter, with the exception of Jesus Christ.
Being lost is not a matter of conduct but rather a condition of the heart. A change of behavior for the better will not alter that state. What's needed is transformation in a person's very nature.
Our heavenly Father's attitude toward the lost is one of love and patience. In Greek, the same word can be translated as perish or lost; 2 Peter 3:9 tells us, His desire is that no one perish but that all come to repentance. Knowing that we're helpless to change our own hearts, He sent His Son to save us.
The extent of our desperate condition is revealed by the exorbitant price of our rescue. It cost the blood of Jesus Christ, who paid the penalty for our sin by offering up His perfect life in our place.
Maybe you feel your condition isn't that bad, and compared to others, you're a pretty good person. Human beings have the power to modify their behavior to a certain degree, but the truth is that without Christ, everyone has a sinful nature. We all need the Savior, who transforms us from the inside out. 
For more biblical teaching and resources from Dr. Charles Stanley, please visit www.intouch.org
and
click here to listen to Dr. Stanley at OnePlace.com.
FEATURED RESOURCE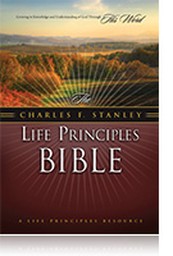 The NASB Life Principles Bible
You can now read the Scriptures in Dr. Stanley's favorite teaching translation -- the New American Standard -- while learning the 30 Life Principles that have guided him for more than 50 years. The new NASB Life Principles Bible will enhance your personal study time through explanation of key passages, plus helpful resources like "Answers to Life's Questions," concordance, maps, and much more. Available in leather and hardcover. 

Used with permission from In Touch Ministries, Inc. © 2009 All Rights Reserved.