In Touch Daily Devotional
by Dr. Charles Stanley
---
Thursday, May 22, 2008 – Dealing with Loneliness –
Psalms 102:1-7
Loneliness can be a lifelong challenge or a short-term event. The length of the experience is often determined by how we deal with it. Turning to the Lord can help us find our way through the fog of isolation.
You can admit to lonely feelings. Being a Christian doesn't disqualify us from sometimes having a sense of seclusion. Many of David's Psalms speak of his longing for companionship. When we express our feelings to the Father and cry out for His touch, He will answer. I often tell God that I need Him to wrap His arms around me. His response is just as real as if a human being walked in and hugged me.
You should develop godly relationships. We should pray for friends who'll point us toward the Lord whether we're in good times or bad. These are the loved ones who see our faults and like us anyway.
And, be anchored in Scripture. When we cling to the Word during a lonely time, we'll end up with a richer understanding of the Lord. Occasionally we all will walk through the fog of loneliness. But God is the Light guiding us out again. If you're struggling with feelings of isolation, cry out to Him for help.
FEATURED RESOURCE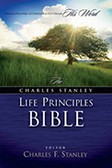 The Life Principles Bible
This Bible combines the wisdom of Scripture with the principles that guide Dr. Stanley's life and empower his ministry. Order your copy.
To see more resources from In Touch Ministries, please visit us at www.intouch.org or go directly to our bookstore at In Touch Ministries.