May 26, 2009
Making Changes to Fulfill God's Plan
Matthew 16:24-27
As God's adopted children, we have been given a new purpose: glorifying Him through righteous living. Yesterday we saw that this means making certain modifications in our life. Let's consider two more changes that may be necessary for followers of Jesus.
One potential adjustment has to do with our belief system: a Christian's thinking ought to match Jesus'. The world's influence is strong, and if we listened to the culture, we'd push ahead of others, take all the credit for our accomplishments, and keep material possessions for our own use. But students of Scripture know that the last shall be first (Mark 9:35), God is the one who deserves our praise (Psalm 96:4), and Christians are to be generous people (1 Tim. 6:18). What we believe needs to match what the Bible says is true.
Lastly, we may have to redefine our commitments to be sure the Lord comes first. His desires for us should take precedence over what we want and what others ask us to do. We must evaluate our choices in light of God's plan for us. This may mean letting go of a favorite activity, taking on a new responsibility, or remaining where we are despite yearning to leave. Our Father wants and deserves His children's full devotion (Matt. 22:37).
These changes do not all happen instantly at salvation; rather, they take place over a lifetime. Whenever the Holy Spirit reveals a deeper truth or calls us to a new work, we will have additional "alterations" to make. But such changes are  accompanied by the confidence of knowing that God will use us to fulfill His plan.
For more biblical teaching and resources from Dr. Charles Stanley, please visit www.intouch.org
and
click here to listen to Dr. Stanley at OnePlace.com.
FEATURED RESOURCE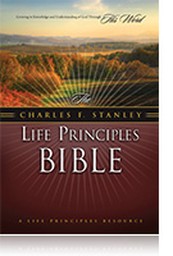 The NASB Life Principles Bible
You can now read the Scriptures in Dr. Stanley's favorite teaching translation -- the New American Standard -- while learning the 30 Life Principles that have guided him for more than 50 years. The new NASB Life Principles Bible will enhance your personal study time through explanation of key passages, plus helpful resources like "Answers to Life's Questions," concordance, maps, and much more. Available in leather and hardcover. 

Used with permission from In Touch Ministries, Inc. © 2009 All Rights Reserved.