May 27 
Our God of Comfort 
2 Corinthians 1:3-4
God's care for us extends to the details of our lives. He knows when His children hurt and longs to offer comfort (Isa. 49:13).
The Lord's compassion is personal, continuous, and always available. We receive His comfort through the Holy Spirit, who lives within us. There is no situation or time when He is inaccessible to the believer—we can be consoled and reassured at any time, day or night.
Consider how the compassion of God was demonstrated through Jesus' life. He interacted even with the "untouchables"—people whose bodies were infected with a contagious disease (Luke 17:11-14). And no sickness of ours will prevent Him from caring for us.
Jesus had compassion on people with medical conditions (Matt. 14:14). He not only healed them physically but also gave an even greater comfort—new life through the forgiveness of sins. And while our infirmities
may remain, the Lord lovingly strengthens us to persevere (2 Cor. 12:7-9).
And what about the messes we get into? Peter's betrayal of Christ was met with forgiveness (John 21:15-17). Thomas's doubts were answered by Jesus Himself (John 20:27). Our mistakes won't stop Him from loving us. Even to His enemies, Jesus left the way open for repentance.
God's comfort and care are adequate for anything we face, whether it's declining health, insufficient finances, or family trouble. Then, once we've experienced His consolation, we are to become bearers of comfort to others (2 Cor. 1:4). People everywhere are in great need of His compassion.
For more biblical teaching and resources from Dr. Charles Stanley, please visit www.intouch.org.
Click here to watch Dr. Charles Stanley & In Touch Ministries Video Online
and
click here to listen to Dr. Stanley at OnePlace.com.
FEATURED RESOURCE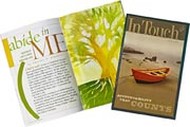 In Touch Magazine
Stories that Inspire, Teaching that Renews
If you like Dr. Charles Stanley's radio program, TV broadcast and books, then you'll love his free, award-winning monthly magazine. It's full of informative resources that will touch your heart and invigorate your faith. Every month, In Touch magazine brings readers daily devotionals from Dr. Stanley, in-depth Bible studies, inspiring articles and insightful teaching to help strengthen your family and your relationship with God. Click below to start your free subscription to In Touch magazine. 

Used with permission from In Touch Ministries, Inc. © 2009 All Rights Reserved.