In Touch Daily Devotional
by Dr. Charles Stanley
---
May 29, 2007 – The Challenge of Forgiving Ourselves – Psalms 32:1-2 
            Welcome to the In Touch Devotional. 
            Yesterday, we considered why people fail to forgive themselves. Today, let's look at questions to ask yourself when you struggle with self-condemnation. 
            First, Why should I continue to condemn myself when God no longer condemns      me? 
            Second, Is my self-condemnation drawing me closer to God, or is it driving me      farther from Him? 
            Third, What good am I doing by refusing to forgive myself? 
            Fourth, Is my self-condemnation helping or hurting my relationships with others? 
            Fifth, Does my refusal to forgive myself impress God? Does He find me more          devout because of my guilt and shame? 
            Sixth, Is there any biblical basis for not forgiving myself? 
            Seventh, How long do I intend to condemn myself? What will be the end result? 
            Normally, the answers to these questions are obvious. But if you're stuck in a self-condemning mindset, the truth may seem hazy. 
            Often, the only way to work through times of self-doubt and remorse is to focus on God and His will for your life. If you struggle with self-forgiveness, prayerfully consider these seven questions. Read them out loud. Let them work through your spirit. 
You may even want to open a journal and write down your thoughts as the Lord speaks to you. You'll surely face some intense heart struggles as you consider these points, and as God reorders your thoughts about yourself.
FEATURED RESOURCE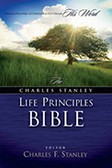 The Life Principles Bible
This Bible combines the wisdom of Scripture with the principles that guide Dr. Stanley's life and empower his ministry. Order your copy.
To see more resources from In Touch Ministries, please visit us at www.intouch.org or go directly to our bookstore at In Touch Ministries.