In Touch Daily Devotional
by Dr. Charles Stanley
---
May 31, 2007 – The Reality of God's Love –
2 Corinthians 11:23-27
Welcome to the In Touch Devotional.
Perhaps you feel some past sin keeps God from loving you. If that's the case, think about Paul, a man who violently persecuted Christians before finally turning to the Lord. Paul says God loves you. Do you believe him?
Maybe you're someone who wonders how a loving God could allow you to be hurt or abused. Paul endured beatings and imprisonment for preaching the Gospel. And he says God loves you. Do you believe him?
It's possible you feel alone and unlovable. Paul was abandoned by friends, and even shipwrecked. He says God loves you. Do you believe him?
Regardless of your experiences, the apostle Paul probably experienced something you can relate to. But he kept spreading his message of hope, which was God loves us and sent His Son to die for our sins.
The situation we find ourselves in may be unfair, painful, or humiliating. But the fact it happened doesn't mean God stopped loving us. Sometimes, we face difficulty because He's polishing our rough edges and molding us into His image. Other challenges are instigated by Satan, but the Lord's permissive will allows them. As Romans 8:28 says, God works everything out to our good, according to His purpose for our life.
The key to accepting the truth of God's unconditional love is to focus attention on Him rather than your circumstances. When you're learning, talking, and sharing you life with Him, trust and faith naturally replace doubt and fear.
FEATURED RESOURCE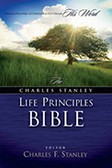 The Life Principles Bible
This Bible combines the wisdom of Scripture with the principles that guide Dr. Stanley's life and empower his ministry. Order your copy.
To see more resources from In Touch Ministries, please visit us at www.intouch.org or go directly to our bookstore at In Touch Ministries.