May 5
Fellowship with Jesus 
Luke 10:38-42
Two sisters, Mary and Martha, were busy preparing for Jesus' visit. Upon His arrival, the first sister turned her attention to Him while the second was distracted by the preparations (v. 40). She became agitated that Mary was no longer helping. We may be thinking Martha is right—if there is still work to be done, her sister should not be sitting down. Then we hear Jesus' perspective. Observing that Martha was worried and upset about many things when only one thing was needed, He said Mary had chosen what was better (v. 42).
There are some important lessons to be learned from this story. First, to have fellowship with Jesus, we may have to leave some things undone. Jesus knew how hard the women had been working and how much Martha longed to finish the tasks. But their greatest need was to spend time with Him. Their focus was to be on listening, learning, and interacting with Him.
The second lesson is that our choice to forgo an activity may be misunderstood. Martha certainly didn't comprehend her sister's decision. What's more, if we fail to take time with Him, there may be unpleasant consequences. Martha's distraction led to worry and agitation. Jesus invited her to choose the better way—namely, to be with Him.
Establishing a habit of communing with the Lord is essential to our spiritual health. Connecting with Him regularly will sharpen our focus on what is most important and help us separate what is good from God's best. Even in our daily work, we can learn how to maintain an awareness of Him.
For more biblical teaching and resources from Dr. Charles Stanley, please visit www.intouch.org.
Click here to watch Dr. Charles Stanley & In Touch Ministries Video Online
and
click here to listen to Dr. Stanley at OnePlace.com.
FEATURED RESOURCE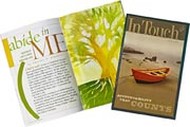 In Touch Magazine
Stories that Inspire, Teaching that Renews
If you like Dr. Charles Stanley's radio program, TV broadcast and books, then you'll love his free, award-winning monthly magazine. It's full of informative resources that will touch your heart and invigorate your faith. Every month, In Touch magazine brings readers daily devotionals from Dr. Stanley, in-depth Bible studies, inspiring articles and insightful teaching to help strengthen your family and your relationship with God. Click below to start your free subscription to In Touch magazine. 

Used with permission from In Touch Ministries, Inc. © 2009 All Rights Reserved.