May 9-10, 2009
Passing On a Legacy of Faith
2 Timothy 1:1-6
Paul admired the faith legacy that was passed down to Timothy by his mother and grandmother. Although Eunice and Lois could not bestow their belief as if it were a material heirloom, they certainly modeled the value of trusting in the Lord. Whatever Timothy's monetary birthright, his greatest inheritance was spiritual
instruction from these influential women.
Mothers and fathers who desire to create a faith legacy will make the following values part of their lives:
Principles. You yourself must practice the Lord's principles. Parents can't teach what they don't know. But those who live according to God's Word and find His ways effective will eagerly share the lesson.
Pattern. You must go beyond simply talking about principles, and live them in front of your children. Lifestyle speaks so much louder than words. A consistent pattern of obedience to God inspires others to seek Him, whereas saying one thing but doing another can turn children off.
Persistence. You must be determined about gaining spiritual knowledge. I learned this wise habit from my mother, who set out to instill in me the values I'd need to become a godly adult. To teach a particular lesson, she'd keep telling and showing me until she was satisfied I'd gotten the message.
Timothy's mother and grandmother were not intent on merely raising a boy. Rather, they desired to train up a man of God. Judging from Paul's letters, they achieved that goal because they themselves were devoted to the Lord. Can you say the same of your life? It's never too late to begin crafting a faith legacy. 
For more biblical teaching and resources from Dr. Charles Stanley, please visit www.intouch.org
and
click here to listen to Dr. Stanley at OnePlace.com.
FEATURED RESOURCE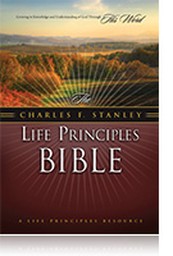 The NASB Life Principles Bible
You can now read the Scriptures in Dr. Stanley's favorite teaching translation -- the New American Standard -- while learning the 30 Life Principles that have guided him for more than 50 years. The new NASB Life Principles Bible will enhance your personal study time through explanation of key passages, plus helpful resources like "Answers to Life's Questions," concordance, maps, and much more. Available in leather and hardcover. 

Used with permission from In Touch Ministries, Inc. © 2009 All Rights Reserved.