In Touch Daily Devotional
by Dr. Charles Stanley
---
May 9, 2007 – A Step Away – Genesis 12:1-5
            Welcome to the In Touch Devotional. 
            Years ago, Dr. Stanley had a wonderful young man serving on his church staff. He did a fabulous job, had a great attitude, and was a true asset to the ministry. Dr. Stanley really liked him. But, at that time, the church was forced to make some necessary staff cutback and had to let this man go. Even though it was the right decision, Dr. Stanley had a difficult time informing him. 
            Later, Dr. Stanley saw him in public, and he made the most remarkable comment. He said, "You know, when you had to let me go, the first thing the Lord said to me was, 'Well, now you're going to have to obey Me whether you want to or not!'" 
            He explained that he'd sensed the Lord calling him to seminary two years earlier. But he didn't go. He liked his ministry position at the church, made adequate money to care for his family, and enjoyed living in that particular area. He felt quite content with the way things were. And he simply couldn't let go of his comfort to follow the Lord's leading. In reality, his comfortable position had become an obstacle. So, God removed it. But a year later, he was enrolled in seminary. He finally enjoyed the blessings of following God's call and plan for His life. 
            How frequently do we miss out on God's will because we've become comfortable where we are? Sometimes the call of faith is a call away from what we know and love. Is there any comfort in your life that may block your obedience to God? Renew your commitment to Him today, wherever He may lead.
FEATURED RESOURCE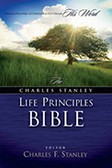 The Life Principles Bible
This Bible combines the wisdom of Scripture with the principles that guide Dr. Stanley's life and empower his ministry. Order your copy.
To see more resources from In Touch Ministries, please visit us at www.intouch.org or go directly to our bookstore at In Touch Ministries.