In Touch Daily Devotional 
by Dr. Charles Stanley
---
November 13, 2006
Made for Praise
            Something is happening in the church today. Something is sweeping through our congregations, stirring worshipers to glorify God in unexpected ways. Something many services around the world had all but eradicated is returning to church in force. That something, surprisingly, is praise.
          For a long time, churches were so focused on evangelism and accurate Bible teaching that, somewhere along the way, the art of praise was given less room for expression. In fact, some people today never missed praise, because they had never truly been exposed to it. But the "new" worship that we see exploding around the world today is not really new at all. It is the sound of praise returning to the church.      
          God's people were made for praise. Embedded in our spirits, praise is something we cannot escape or ignore.  The apostle Peter says, "You are a chosen race, a royal priesthood, a holy nation, a people for God's own possession, so that you may proclaim the excellencies of Him who has called you out of darkness into His marvelous light" (1 Peter 2:9, emphasis added). How beautiful it is to know that we are God's own people, created, chosen, and called by Him so that we may "proclaim . . . [His] excellencies." In other words, our main responsibility is a life of praise to our heavenly Father.    
          Does your worship reflect genuine adoration and praise for God? Does your heart sing as you lift your hands to heaven, giving glory to the Lord? He is worthy of our praise.  Give it to Him today.
 
FEATURED RESOURCE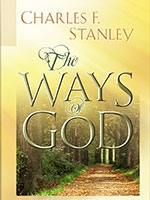 The Ways of God
from Dr. Charles Stanley
God's ways are always perfect, and following them leads to fulfillment and success. One of life's undeniable truths is that your choices will ultimately determine your future. While you can decide for yourself what career field to enter or who to marry, nothing compares with seeking God first and relying on the wonderful principles of His Word. In this series, Dr. Stanley teaches that as you serve God and seek His ways, you'll be blessed with peace, wisdom, and guidance for the journey ahead. Order here  now!
To see more resources from In Touch Ministries, please visit us at www.intouch.org  or go directly to our bookstore at In Touch Ministries.