In Touch Daily Devotional 
by Dr. Charles Stanley
---
November 17, 2006
The Sunday Rush
            For many believers, Sunday morning goes something like this: Beat the alarm clock into submission because Saturday's late-night fun wasn't compatible with Sunday's early morning responsibilities. Oversleep. Jump out of bed and hit the shower.  Yell upstairs to make sure the kids are awake. Run through the house, simultaneously dressing children, letting the pets out, eating a bowl of cereal, and making lunch plans with in-laws.  Herd the family into the car.  Argue with the spouse about being late to the service.  Screech into the church parking lot. Run through the front doors of the sanctuary. Plop down in a pew. Elbow the spouse, who made another crack about being late.  Open a hymnal. Sing some songs.  Hear a sermon. Leave church to meet the in-laws at the restaurant. Go home and take a nap. Sound familiar?
          There's obviously something wrong with this all-too-common Sunday scenario: Where's the worship? This family made it to the service, but praising God and studying His Word were just a few items on their checklist of activities. There was no room for an encounter with God, because worship seems to be an interruption of their Sunday, not the focus of it. 
          Psalm 100:1-5 instructs us to "enter . . . His courts with praise." Does this request characterize your entrance into worship each week? Don't let the "Sunday rush" become a problem for your household. Remember, worship is not something you have to do; it's something you get to do! So, plan ahead and prepare your heart, mind, and family to meet the King.
 
FEATURED RESOURCE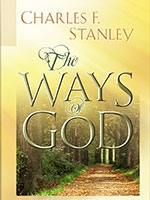 The Ways of God
from Dr. Charles Stanley
God's ways are always perfect, and following them leads to fulfillment and success. One of life's undeniable truths is that your choices will ultimately determine your future. While you can decide for yourself what career field to enter or who to marry, nothing compares with seeking God first and relying on the wonderful principles of His Word. In this series, Dr. Stanley teaches that as you serve God and seek His ways, you'll be blessed with peace, wisdom, and guidance for the journey ahead. Order here  now!
To see more resources from In Touch Ministries, please visit us at www.intouch.org  or go directly to our bookstore at In Touch Ministries.