Wednesday November 19
The Loss of Hope 
Acts 27:13-26
Life doesn't always meet our expectations. Even when making plans according to God's lead, we may run into something that interrupts them. Frustration over the obstacle can lead to discouragement and loss of hope. Then, if the hindrance should persist, our spirits may plummet toward despair.
Circumstances which seem impossible to overcome are often the ones that trip us up. Think about Paul's voyage to Rome by sea. When a bad storm arose, the sailors worked hard to save the ship. But since they couldn't control the weather, they gradually gave up all hope of being saved (v. 20). There are times when we can't change what has happened—whether it's a job loss, a loved one's death, or a devastating diagnosis. In such situations, feelings of hopelessness can overtake us.
Postponed plans can also be disheartening. Hannah is an example of someone who became dejected because of "hope deferred" (Prov. 13:12). She saw other women bearing children, but her own maternal desires had not yet been fulfilled (1 Sam. 1:11). When things do not go according to our schedule, we may experience emotions like hers.
Feeling abandoned by the Lord can throw believers off track. I remember a season of life when I felt all alone. My mind said God was with me, but my feelings said He wasn't. To counter those emotions, I pursued the Lord through Scripture meditation and prayer.
In times of discouragement, you have a choice. Will you focus on your circumstances, or will you fix your gaze on our loving Father and trust Him?
FEATURED RESOURCE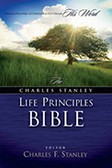 The Life Principles Bible
This Bible combines the wisdom of Scripture with the principles that guide Dr. Charles Stanley's life and empower his ministry. Order your copy.
To see more resources from In Touch Ministries, please visit us at www.intouch.org or go directly to our bookstore at In Touch Ministries.
Used with permission from In Touch Ministries, Inc. © 2008 All Rights Reserved.