In Touch Daily Devotional 
by Dr. Charles Stanley
---
November 21, 2006
Praise Builds Courage
          Some believers think of praise as a byproduct of good fortune, but praise is appropriate in any circumstance. Honoring God in the midst of trouble causes the human heart to undergo a dramatic change, from fearful to courageous.  We cannot truly claim to understand the power of praise until we have experienced this transformation for ourselves.
          When messengers came with warnings of an advancing army, King Jehoshaphat became fearful. (2 Chronicles 20:3) But as he recalled the Lord's sovereignty and past faithfulness, he remembered that God provides solutions to seemingly hopeless situations.
          The divine solution seemed strange and rather frightening; "You need not fight in this battle; station yourselves, stand and see the salvation of the LORD on your behalf" (v. 17). But in the next instant, the king and his people were on their faces worshiping the Lord.  Praise magnifies God's presence, making His followers more aware of Him.
          The Israelites knew their Protector was in their midst; they trusted He had a plan because praise had reminded them of God's faithfulness. Celebrating the Lord bolsters faith, evident in the way in which Jehoshaphat's emotions progressed from fearful to helpless to courageous. (2 Chronicles 20:3, 12, 20) 
          The Lord intervened personally and miraculously for the Israelites. He will do the same for you.  The next time you face a troubling situation, choose praise instead of self-pity. God will release His power in your life, giving you courage and filling your heart with joy.
 
FEATURED RESOURCE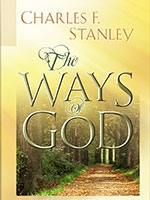 The Ways of God
from Dr. Charles Stanley
God's ways are always perfect, and following them leads to fulfillment and success. One of life's undeniable truths is that your choices will ultimately determine your future. While you can decide for yourself what career field to enter or who to marry, nothing compares with seeking God first and relying on the wonderful principles of His Word. In this series, Dr. Stanley teaches that as you serve God and seek His ways, you'll be blessed with peace, wisdom, and guidance for the journey ahead. Order here  now!
To see more resources from In Touch Ministries, please visit us at www.intouch.org  or go directly to our bookstore at In Touch Ministries.