November 24 
It Is Good to Give Thanks to God 
Psalms 92
Throughout the Psalms, we are reminded and even commanded to give thanks to the Lord. Thanksgiving Day should never become a substitute for the daily expression of gratitude to God for all that He has done.
Because our culture is largely characterized by ingratitude, we need to work at developing a grateful heart. Even in prayer, we can become self-centered and drift from one petition to another without a word of praise to God. Giving thanks refocuses our attention onto the Lord as we remember His love and faithfulness and praise Him for who He is and what He has done.
Thanksgiving refreshes our souls as we spend time with God, concentrating on His goodness and grace. Anxiety is replaced with peace, and despondency with joy. If you wake up each morning and thank the Lord for deliverance from the power of sin, provision for all your needs, and guidance for the day ahead, what is left to cause worry or discouragement?
Gratitude to God for His faithfulness in the past increases faith and strengthens trust in Him for the future. Remember how He carried you in times of pain, helped you in periods of weakness, and supplied all your needs. You can trust Him with whatever lies ahead.
To establish a habit of thanksgiving, recall God's lovingkindness in the morning, and recount His faithfulness at night. Thank Him for blessings—and also for the deep work He is doing in you through difficulties. As you start to see situations from His perspective, your gratitude and trust will grow.
Extra: On Thanksgiving
"You have turned for me my mourning into dancing; You have loosed my sackcloth and girded me with gladness, that my soul may sing praise to You and not be silent O Lord my God, I will give thanks to You forever" (Ps. 30:11-12).
 "Then you will say on that day, 'I will give thanks to You, O Lord; for although You were angry with me, Your anger is turned away, and You comfort me'" (Isa. 12:1).
"And when He had taken some bread and given thanks, He broke it and gave it to them, saying, 'This is My body which is given for you; do this in remembrance of Me'"(Luke 22:19).
"Thanks be to God for His indescribable gift!" (2 Cor. 9:15).
"Be anxious for nothing, but in everything by prayer and supplication with thanksgiving let your requests be made known to God" (Phil. 4:6).
"So then, just as you received Christ Jesus as Lord, continue to live in him, rooted and built up in him, strengthened in the faith as you were taught, and overflowing with thankfulness" (Col. 2:6-7 niv).
"Let the peace of Christ rule in your hearts, to which indeed you were called in one body; and be thankful. Let the word of Christ richly dwell within you, with all wisdom teaching and admonishing one another with psalms and hymns and spiritual songs, singing with thankfulness in your hearts to God" (Col. 3:15-16).
For more biblical teaching and resources from Dr. Charles Stanley, please visit www.intouch.org.
Click here to watch Dr. Charles Stanley & In Touch Ministries Video Online
and
click here to listen to Dr. Stanley at OnePlace.com.
FEATURED RESOURCE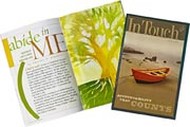 In Touch Magazine
Stories that Inspire, Teaching that Renews
If you like Dr. Charles Stanley's radio program, TV broadcast and books, then you'll love his free, award-winning monthly magazine. It's full of informative resources that will touch your heart and invigorate your faith. Every month, In Touch magazine brings readers daily devotionals from Dr. Stanley, in-depth Bible studies, inspiring articles and insightful teaching to help strengthen your family and your relationship with God. Click below to start your free subscription to In Touch magazine. 

Used with permission from In Touch Ministries, Inc. © 2009 All Rights Reserved.