November 5 
In Jesus' Name 
John 14:9-14
Sometimes we may wish Jesus had said to His disciples, "Ask Me anything, and I will answer." But that instruction would not have adequately described how to connect to heaven's throne. Therefore, the Lord gave very specific instructions for petitioning Him: "Whatever you ask in My name, that will I do," (John 14:13, emphasis added).
The power of Jesus Christ's name throws open the doors to God's throne room. In fact, we are granted eternal access when we call upon Him for salvation. Formerly, the way was barred because holy God will not tolerate sin stains. But since believers have been made righteous, they can enter His presence with confidence (2 Cor. 5:21; Heb. 4:16). Furthermore, our association with Jesus gives us authority to petition the almighty Father and expect an answer (Matt. 7:7; 1 John 5:14).
Yet the phrase "in Jesus' name" isn't some magic incantation that automatically gets what a person desires. Rather, it is a way to ensure that hearts are right and requests are in line with God's will. When we ask in Jesus' name, we are telling Him we want an answer that is based upon His complete knowledge of our situation. Moreover, we are surrendering our desires to be denied, changed, or granted as He sees fit.
We must not treat our prayer privilege lightly. Asking for silly or selfish things in the Lord's name is useless. He isn't about the business of granting wishes. Instead, believers are invited to tap into Jesus' power for the purpose of seeing His will done and His gospel spread.
For more biblical teaching and resources from Dr. Charles Stanley, please visit www.intouch.org.
Click here to watch Dr. Charles Stanley & In Touch Ministries Video Online
and
click here to listen to Dr. Stanley at OnePlace.com.
FEATURED RESOURCE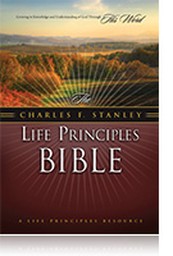 The NASB Life Principles Bible
You can now read the Scriptures in Dr. Stanley's favorite teaching translation -- the New American Standard -- while learning the 30 Life Principles that have guided him for more than 50 years. The new NASB Life Principles Bible will enhance your personal study time through explanation of key passages, plus helpful resources like "Answers to Life's Questions," concordance, maps, and much more. Available in leather and hardcover. 

Used with permission from In Touch Ministries, Inc. © 2009 All Rights Reserved.