In Touch Daily Devotional 
by Dr. Charles Stanley
---
November 9, 2006
Heavenly-Minded Prayers
We are a people belonging to the Lord, and our home is not of this world. For those reasons, our prayers must address kingdom concerns. We need to balance our requests for physical needs with prayers for salvation and the spiritual growth of God's children.
Paul's prayers were all Christ-centered and kingdom-related. He wanted both his fellow Jews and the Gentiles to trust Jesus as Savior. (Acts 17:2-4) His prayers for believers were directly tied to Christ and God's kingdom plan. He desired that they know Jesus, pattern their lives after Him, and carry out God's will. We would be wise to have the same goals.
The apostle's prayers were also specific and in harmony with God's will.  He yearned for believers to be filled with spiritual wisdom and understanding, to know God's will, and to walk in a worthy manner.  He prayed they would please God, be fruitful, and increase in their knowledge of God.
Paul also asked that believers be strengthened with the Spirit's power and display steadfastness and patience. Our God delights in answering similar prayers because they're part of what He desires for us.
Finally, the apostle didn't ignore the people's physical and emotional needs. Instead, Paul knew God's answers to these prayers in Colossians chapter one would bring believers victory over the situations facing them. They would have strength to persevere and to be good witnesses during difficult times.
Take steps to make your prayer life more heavenly-minded than earthly-bound. Start by praying today's verses for yourself and people you know.
 
FEATURED RESOURCE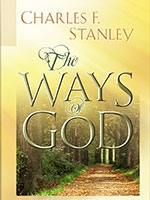 The Ways of God
from Dr. Charles Stanley
God's ways are always perfect, and following them leads to fulfillment and success. One of life's undeniable truths is that your choices will ultimately determine your future. While you can decide for yourself what career field to enter or who to marry, nothing compares with seeking God first and relying on the wonderful principles of His Word. In this series, Dr. Stanley teaches that as you serve God and seek His ways, you'll be blessed with peace, wisdom, and guidance for the journey ahead. Order here  now!
To see more resources from In Touch Ministries, please visit us at www.intouch.org  or go directly to our bookstore at In Touch Ministries.