In Touch Daily Devotional 
by Dr. Charles Stanley
---
October 12, 2006 God Is Good to All Psalms 118:1-4
While the world is corrupt, God is good. He pours out evidence of His goodness onto all creation. Non-Christians credit any benefits they experience to luck or hard work. But some Christians think unbelievers don't deserve blessings of wealth or good health. Believers may feel that way if they consider themselves faithful and are struggling personally or financially.
No matter how great our service to God, we are no more deserving than anyone else. Only our all-knowing God is qualified to determine what is truly "good." And, He bases His judgment on the condition of our hearts.
Too much of a good thing can have negative effects. For instance, a $10 tithe may not seem like much to a young person, even though he only earns $100 a week. A few years later that same person, now successful and wealthy, could see things differently. He might tell his pastor he can't afford to give $1000, even though the amount represents the same percentage of his paycheck.
God will be selective about which blessings He bestows. He doesn't want anything to tempt us to turn away from Him. We're called to worship the Giver, not the gift. When we're not wise stewards, the Lord may choose to withdraw some of His benefits.
If we want God to bless us fully, we must follow His warnings in Scripture. In Psalms, the sons of Korah and David separately wrote that the Lord unleashes blessing on those who walk upright, take refuge in Him, and obey. (Psalm 84:11; 34:8-9)  Every good thing comes from God. (James 1:17) Walk according to His will, follow His ways, and He'll shower you with His goodness.
 
FEATURED RESOURCE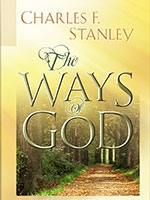 The Ways of God
from Dr. Charles Stanley
God's ways are always perfect, and following them leads to fulfillment and success. One of life's undeniable truths is that your choices will ultimately determine your future. While you can decide for yourself what career field to enter or who to marry, nothing compares with seeking God first and relying on the wonderful principles of His Word. In this series, Dr. Stanley teaches that as you serve God and seek His ways, you'll be blessed with peace, wisdom, and guidance for the journey ahead. Order here  now!
To see more resources from In Touch Ministries, please visit us at www.intouch.org  or go directly to our bookstore at In Touch Ministries.