In Touch Daily Devotional 
by Dr. Charles Stanley
---
October 13, 2006 Wisdom for the Trials of Life James 1:2-8
Not a single person on earth has ever lived a completely problem-free life. We may see someone's success and think, He's so lucky. He doesn't have a care in the world. We often forget that Scripture describes life's trials as universal—we all face times of trouble.
James 1:2 is a rather small verse. But, it contains tremendous insight into the issue of life's trials. First, it is significant that James uses the word "when." This defines the issue. Enduring trials is not a matter of if, but when.
Second, when he says we will "encounter" misfortune, James is implying that difficulties will occur unexpectedly. There may be no time to prepare for them.
Third, he uses the adjective "various" to denote the ever-changing, often surprising forms in which problems appear. James has a specific message he wants to get across: Get ready. Trouble is coming, so you must be prepared to handle it effectively.
"Effective" may not be a word you'd use to describe your response to difficulties. Too often, we take a hit from life, back ourselves into a corner, and hope for the hardship to quickly pass us by. When we do this, we rob ourselves of the growth opportunity each challenge presents.
Read or listen to James 1:2-8 again. Then, pray for God to show you how to endure. Ask Him how to actually rejoice in your struggles. The Lord has a plan for your moment of hardship. Ask Him today what His purpose is. Then, work to accomplish it.
 
FEATURED RESOURCE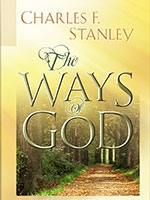 The Ways of God
from Dr. Charles Stanley
God's ways are always perfect, and following them leads to fulfillment and success. One of life's undeniable truths is that your choices will ultimately determine your future. While you can decide for yourself what career field to enter or who to marry, nothing compares with seeking God first and relying on the wonderful principles of His Word. In this series, Dr. Stanley teaches that as you serve God and seek His ways, you'll be blessed with peace, wisdom, and guidance for the journey ahead. Order here  now!
To see more resources from In Touch Ministries, please visit us at www.intouch.org  or go directly to our bookstore at In Touch Ministries.