In Touch Daily Devotional 
by Dr. Charles Stanley
---
October 15, 2006 Solving Problems Through Prayer Psalm 55:22
            The toddler climbed to the top step of the plastic slide in the backyard and lifted one leg onto the top platform. It left him straddled, one leg on the top of the slide and the other on the top step. His coordination was still undeveloped enough that he was trapped. He couldn't move either leg. "Daaaaaddyyyyy!"
            The toddler knew exactly what to do next. In his moment of complete helplessness, with fear setting in as he was stranded several feet above the ground, he called for his daddy. Watching nearby, the dad moved in to save the day. What child wouldn't immediately cry out to the nearest authority? What father wouldn't act quickly in such a situation?
            When hit with a trial or when bad news comes our way, our most effective response is to immediately say, "Father." Not only does this immediately stunt the problem from growing into something that overwhelms us, but it reminds us of our rightful position as children of God.
            Our Father says He will never leave us or forsake us. Armed with such a promise, we know that God is under His own divine obligation to provide us guidance and direction.
            There will be many times when life will leave us stretched into an awkward position. We should always remember that our Father is watching nearby, ready to act when called.
 
FEATURED RESOURCE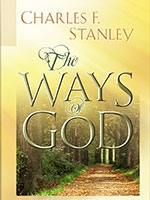 The Ways of God
from Dr. Charles Stanley
God's ways are always perfect, and following them leads to fulfillment and success. One of life's undeniable truths is that your choices will ultimately determine your future. While you can decide for yourself what career field to enter or who to marry, nothing compares with seeking God first and relying on the wonderful principles of His Word. In this series, Dr. Stanley teaches that as you serve God and seek His ways, you'll be blessed with peace, wisdom, and guidance for the journey ahead. Order here  now!
To see more resources from In Touch Ministries, please visit us at www.intouch.org  or go directly to our bookstore at In Touch Ministries.