In Touch Daily Devotional 
by Dr. Charles Stanley
---
October 24, 2006 The Message of the Cross John 19:1-27
            Rome used the cross as a brutal method for executing criminals. Through Jesus'
sacrificial act, its message became one of hope and life for those who believe in Him.
            The cross meant various things to different people in the gospel account. To Pilate, Judea's governor, it was the place where an innocent man had died. The Pharisees and Sadducees, on the other hand, saw the cross as the way to eliminate a problem—it meant that the radical rabbi was finished, and their position and authority were no longer threatened.
            When Judas Iscariot heard that Jesus was condemned to die, he became greatly distressed. I believe the betrayer thought his actions would force Jesus to declare His
kingdom, with Judas taking a high position in the new government. Instead, his error in
judgment crushed any personal ambition.
            To Mary, who knew the perfection of her son's life and His identity as the Son of God, the cross represented shameful crime. It also meant the fulfillment of prophecy. When Jesus was eight days old, Simeon had prophesied that a sword would one day pierce Mary's soul. (Luke 2:34-35) The cross brought that about.
            To Jesus' disciples, the Crucifixion was the time when their beloved friend and Messiah died. Their intimate friendship with Jesus seemed to end, as did their dream of being freed from Roman jurisdiction.
            What response would you give to the question, "What does the cross mean to you?" Is it the place where a good man lost his life, a troublemaker was eliminated, or the Son of God died to save you?
 
FEATURED RESOURCE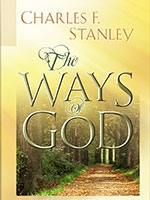 The Ways of God
from Dr. Charles Stanley
God's ways are always perfect, and following them leads to fulfillment and success. One of life's undeniable truths is that your choices will ultimately determine your future. While you can decide for yourself what career field to enter or who to marry, nothing compares with seeking God first and relying on the wonderful principles of His Word. In this series, Dr. Stanley teaches that as you serve God and seek His ways, you'll be blessed with peace, wisdom, and guidance for the journey ahead. Order here  now!
To see more resources from In Touch Ministries, please visit us at www.intouch.org  or go directly to our bookstore at In Touch Ministries.