In Touch Daily Devotional 
by Dr. Charles Stanley
---
October 26, 2006 What Happened at the Cross Hebrews 10
            Holy God is absolutely uncompromising and unrelenting in His attitude toward all forms of evil. His justice requires that payment be made for every sin.
            Under the Old Testament sacrificial system established by God, priests made daily offerings for the nation's sins. (Exodus 29:38-39) Individuals also brought sacrifices of lambs and other animals to the temple as payment for personal transgressions. (Leviticus 5:5-7) Sacrifices were repeated day after day because animals' blood could never take away sin. However, when Jesus, God's chosen Lamb, laid down His life as a substitute for all men, payment for sin was complete. Jesus bore in His body the full penalty for our disobedience—past, present, and future. (1 Peter 2:24) No further sacrifice is required. (Hebrews 7:27).
            What happened at the cross? The wrath of God against all unrighteousness was revealed. (Romans 1:18-19) Judgment against sin was carried out. One man—the virgin-born, sinless, incarnate Son of God—voluntarily offered Himself to stand in our place and receive God's judgment for our sin. Jesus took on the divine condemnation and wrath that we deserve. This is good news. When we receive Jesus as our personal Savior, we are no longer under a death sentence; we are proclaimed not guilty because He took our place.
            The mercy of God in not punishing us, and the riches of His grace in giving us life when we deserve death are ours forever. The cross brought death to One so that many might live. Have you thanked Jesus today for life?
 
FEATURED RESOURCE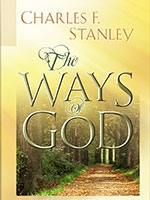 The Ways of God
from Dr. Charles Stanley
God's ways are always perfect, and following them leads to fulfillment and success. One of life's undeniable truths is that your choices will ultimately determine your future. While you can decide for yourself what career field to enter or who to marry, nothing compares with seeking God first and relying on the wonderful principles of His Word. In this series, Dr. Stanley teaches that as you serve God and seek His ways, you'll be blessed with peace, wisdom, and guidance for the journey ahead. Order here  now!
To see more resources from In Touch Ministries, please visit us at www.intouch.org  or go directly to our bookstore at In Touch Ministries.