In Touch Daily Devotional 
by Dr. Charles Stanley
---
October 31, 2006 After Death, What Then? 2 Corinthians 5
            Scripture teaches that whoever has placed faith in Christ will live forever with Him. What happens immediately after a believer's death? Does his soul enter heaven right away, go to sleep until the resurrection, or suffer for certain sins before coming into God's presence?
            In writing to the Thessalonians, the apostle Paul referred to the dead as being asleep. Some think this means the soul exists in a state of "suspended animation" until the resurrection. However, Jesus told the thief on the cross that they would be together in paradise that very day. (Luke 23:43) "Paradise" refers to being in God's presence, not asleep.
            Another group believes in eternal life but thinks that before we go to heaven, additional cleansing through punishment is required for some sins. Scripture is clear. Jesus paid the price for all sins; His work of atonement was finished on the cross. (1 Peter 3:18) Those who have received Jesus as Savior move immediately from life on earth to life in heaven.
            Scripture also shows that people who die without Jesus go into torment, where they will suffer until they stand before the Great White Throne in judgment. (Luke 16:22-23) Since belief in Christ is the only way to be listed in the book of life, the lake of fire will be their final destination.(Revelation -15) This is a hard truth for many who seek to deny there is a hell, condemnation, or eternal judgment.
            Knowing our ultimate destiny will give us the confidence to face difficulties. And understanding the end of those who deny Jesus should motivate us to pray for and witness to them.
 
FEATURED RESOURCE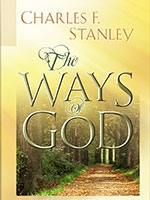 The Ways of God
from Dr. Charles Stanley
God's ways are always perfect, and following them leads to fulfillment and success. One of life's undeniable truths is that your choices will ultimately determine your future. While you can decide for yourself what career field to enter or who to marry, nothing compares with seeking God first and relying on the wonderful principles of His Word. In this series, Dr. Stanley teaches that as you serve God and seek His ways, you'll be blessed with peace, wisdom, and guidance for the journey ahead. Order here  now!
To see more resources from In Touch Ministries, please visit us at www.intouch.org  or go directly to our bookstore at In Touch Ministries.