In Touch Daily Devotional 
by Dr. Charles Stanley
---
October 04, 2006 Dealing Wisely With Temptation 1 Corinthians 10:12-14
As believers, we sometimes hear wrong information about temptation. For instance, many people believe that feeling tempted is sinful. But Jesus was tempted by Satan in the desert (Matthew 4:1). If the Lord remained righteous after being encouraged to do wrong, then temptation itself cannot be a sin. We must guard against false ideas that could disrupt our ability to stand strong.
The truth about temptation is that it's an enticement to take our God-given desires beyond God-given limits. We all feel the pull of our natural, sinful selves to do and think things that are immoral. In this lifetime, we will never be so mature or spiritually minded that we can relax our vigilance. Satan will always try to capitalize on our weakness and selfish desires.
Temptation is based on fantasy — the capacity to enjoy something we want to possess or do, without actually taking any action.  However, the lack of action is deceptive. We tell ourselves it's okay just to think as long as we don't act. But if we allow ourselves to dwell on a tempting thought, that idea connects to emotions and produces desire. Desire grows until a choice must be made about whether to act.
Temptation starts small — with a "one won't hurt" attitude: One drink. One lie. One kiss. The problem is that once we give in, sin gets bigger and more demanding until one turns into a lifestyle. Thankfully, our Source of help is greater than both Satan and our fleshly desires. The key to victory over temptation is to protect our relationship with God.
 
FEATURED RESOURCE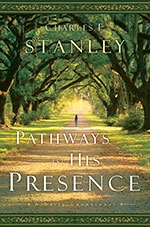 Pathways to His Presence
from Dr. Charles Stanley
Dr. Stanley's new daily devotional, Pathways to His Presence, focuses on 12 spiritual pathways each month — including forgiveness, prayer, victory, and peace — that will guide you confidently into the presence of God. As you journey along, you will join a long list of biblical heroes who chose to place their lives in the hands of God and obey His call. By doing so, they came to know the Lord more intimately and accomplish great and mighty things in His name. Spending time with the Father each day will not only provide guidance for your life, but will make you more like Him! Order here now!
FEATURED RESOURCE
How to Let God Solve Your Problems
from Dr. Charles Stanley
In How to Let God Solve Your Problems, you will discover not only how to handle adversity but how to live beyond your deepest hurts through faith and trust in the one Person who will never leave you. Order here now!
To see more resources from In Touch Ministries, please visit us at www.intouch.org  or go directly to our bookstore at In Touch Ministries.