In Touch Daily Devotional 
by Dr. Charles Stanley
---
October 06, 2006 The Result of Rejecting God Romans 1:24-32
By its very nature, a vacuum can never be full. In the same way, when a man or woman denies God's rightful position as Lord over their life, that person's heart will remain hopelessly empty.
It's impossible to know true satisfaction if you refuse the divine call — to be filled with the Holy Spirit and have constant communion with the Father.  Instead, a person will fall into idolatry. He or she will find some philosophy or object to devote time and attention.
Without the Lord, people will keep seeking new ways to satisfy the emptiness that only God can fill. Then, taking the short step from idolatry to immorality becomes all too easy. Indulging the sinful nature can take many forms. For example, some people are drawn to sexual perversion (Romans 1), while others who worship wealth may be lured by unethical business practices. Scripture clearly warns that idolatry and immorality will incur divine wrath.
God uses a subtle but potent kind of punishment on those who degrade themselves in the service of a false god. We're told in Romans , He "[gives] them over to a depraved mind, to do those things which are not proper." There is no worse penalty than to have the Creator turn away and leave one of his children to be devoured by that which he or she worships. The heart becomes like an iron prison, locking God out forever.
There is only One who is worthy of your worship. If you have denied the Lord, you are already on the slippery slope to immorality — worshipping something that does not deserve honor. Dr. Stanley has a loving warning for you: Turn back to God before it is too late.
 
FEATURED RESOURCE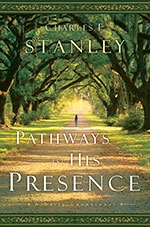 Pathways to His Presence
from Dr. Charles Stanley
Dr. Stanley's new daily devotional, Pathways to His Presence, focuses on 12 spiritual pathways each month — including forgiveness, prayer, victory, and peace — that will guide you confidently into the presence of God. As you journey along, you will join a long list of biblical heroes who chose to place their lives in the hands of God and obey His call. By doing so, they came to know the Lord more intimately and accomplish great and mighty things in His name. Spending time with the Father each day will not only provide guidance for your life, but will make you more like Him! Order here now!
FEATURED RESOURCE
How to Let God Solve Your Problems
from Dr. Charles Stanley
In How to Let God Solve Your Problems, you will discover not only how to handle adversity but how to live beyond your deepest hurts through faith and trust in the one Person who will never leave you. Order here now!
To see more resources from In Touch Ministries, please visit us at www.intouch.org  or go directly to our bookstore at In Touch Ministries.