In Touch Daily Devotional
by Dr. Charles Stanley
---
September 1-2, 2007 – Spiritual Shortsightedness –
Genesis 25:29-34
In a moment of weakness, we have the potential of making mistakes with longlasting consequences. Esau did when he sold his birthright—which gave him authority over his family and a double portion of the inheritance—for a bowl of soup. His error may seem foolish, but all of us can land in situations where good sense and spiritual commitment are undermined by our frailty.
One effective defense against temptation is to know when we are weak. Satan often strikes after waiting for us to reach our physical and emotional limits. He rightly reasons that we will lack the resources to resist what he offers, which he tailors to our perceived need. Wise believers avoid becoming too hungry, angry, lonely, or tired (HALT). Letting oneself reach such extremes opens the door for Satan's short-term solutions, like an unwise business deal or an unsuitable marriage partner. Keep in mind that his plans will likely have a high price that must be paid for a long time.
Many people have "sold" their spiritual birthright—namely, God's plan and blessings for them—because they never stopped to consider the consequences of a short-term solution. Believers should make a habit of questioning their decisions:
What will the consequences be if I make this choice? How will what I'm about to do affect my relationship with the Lord? My family? My church? Will I be pleased tomorrow with what I am doing today? When we are accustomed to evaluating decisions in this way, we will be less likely to succumb to Satan's persuasion in our weak moments.
FEATURED RESOURCE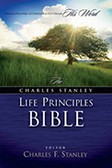 The Life Principles Bible
This Bible combines the wisdom of Scripture with the principles that guide Dr. Stanley's life and empower his ministry. Order your copy.
To see more resources from In Touch Ministries, please visit us at www.intouch.org or go directly to our bookstore at In Touch Ministries.