In Touch Daily Devotional
by Dr. Charles Stanley
---
September 11, 2007 – The Believer at Work – Colossians 3:22-24
            The believer's work is much more than simply a daily job. Anytime we exercise the talents and gifts God has given us, we are laboring for His kingdom. We might be doing something obviously scriptural, like teaching Sunday School or building houses for needy families. Or we may be using our abilities for a more subtle purpose, such as encouraging a sad friend. Whatever we are doing, God expects our work to be done well and with a joyful heart.
            • A believer works with energy. As God's children, we are gifted so we can serve the Lord by serving others. To neglect our talents or to be undisciplined in our duties is disobedient. Paul warned that those who are idle deserve to be shamed (2 Thessalonians 3:10-14).
            • A believer works with enthusiasm. The Lord is doing exciting things through our hands. Knowing that we're participating in His kingdom should be a motivation to make ourselves useful—and to do so heartily.
            • A believer works with excellence. The Lord has fitted us with just the right talent to accomplish the work He wants us to do. For this reason, sloppy or half-hearted actions cannot be justified. Though we may at times fail in an endeavor, giving our best effort will always please our Father.
            On occasion we all get tired and don't feel like approaching God's labor fervently. However, such feelings don't cancel out our responsibility—we're here to serve the Lord. Decide today to carry out His work with enthusiasm, excellence, and energy for as long as He gives you strength.
FEATURED RESOURCE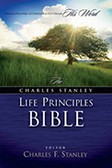 The Life Principles Bible
This Bible combines the wisdom of Scripture with the principles that guide Dr. Stanley's life and empower his ministry. Order your copy.
To see more resources from In Touch Ministries, please visit us at www.intouch.org or go directly to our bookstore at In Touch Ministries.