In Touch - Sept. 18, 2009

Sept. 18, 2009
God Speaks Through a Friend
1 Samuel 3:1-10
When we're not listening for the Lord's voice, He will often send a message through someone else. In 1 Samuel 3:1-10, for example, young Samuel is confused about what is happening. He hears a person speaking but doesn't recognize it as the voice of God. However, his mentor—Eli, the priest—discerns that the Father was calling, so he tells the boy what to do when the Lord speaks again (v. 9).
In taking his advice, Samuel begins a lifelong career of relaying to others what the voice of God says. This might not have happened, though, if Eli had not given his young helper a word of instruction.
I myself had a similar experience several years ago. A friend called me unexpectedly and said, "While I was praying, God told me to tell you to spend tomorrow in prayer and fasting before you make that decision." This struck me in a mighty way, because I was indeed facing a big decision, but there was no way that my friend could have known about it.
I did what he advised, and through this process, God led me to the answer I needed. In fact, I discovered that I had been moving in the wrong direction and would have made a terrible mistake if my friend hadn't called. However, God stepped in and got my attention in a remarkable way.
When we're going off course, the Lord will sometimes speak through other believers to reach us. Therefore, it is vital to maintain a close network of godly men and women we can trust. Thank the Lord for the Christ-centered people in your life, and pray for wisdom in discerning their counsel.
A hymn about hearing God speak:
Speak, Lord, in the Stillness
Speak, Lord, in the stillness,
While I wait on Thee;
Hushed my heart to listen
In expectancy.
Speak, O blessed Master,
In this quiet hour;
Let me see Thy face, Lord,
Feel Thy touch of power.
For the words Thou speakest,
"They are life," indeed;
Living Bread from heaven,
Now my spirit feed!
All to Thee is yielded,
I am not my own;
Blissful, glad surrender,
I am Thine alone.
Speak, Thy servant heareth!
Be not silent, Lord;
Waits my soul upon Thee
For the quickening word!
Fill me with the knowledge
Of Thy glorious will;
All Thine own good pleasure
In my life fulfill.
Like "a watered garden"
Full of fragrance rare
Ling'ring in Thy presence
Let my life appear.
—Emily May Grimes Crawford
For more biblical teaching and resources from Dr. Charles Stanley, please visit www.intouch.org
and
click here to listen to Dr. Stanley at OnePlace.com.
FEATURED RESOURCE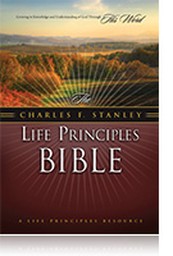 The NASB Life Principles Bible
You can now read the Scriptures in Dr. Stanley's favorite teaching translation -- the New American Standard -- while learning the 30 Life Principles that have guided him for more than 50 years. The new NASB Life Principles Bible will enhance your personal study time through explanation of key passages, plus helpful resources like "Answers to Life's Questions," concordance, maps, and much more. Available in leather and hardcover.

Used with permission from In Touch Ministries, Inc. © 2009 All Rights Reserved.