In Touch Daily Devotional 
by Dr. Charles Stanley
---
September 19, 2006
Our Great High Priest
When you are convicted of a particular sin, how do you react? Do you mourn over the matter? Do you think about it with great regret for days? Does it impact the way you go about your life?
Many Christians are completely undone when the moment of conviction comes. They act as though God's desire is for them to continually wallow in guilt for the rest of their lives. This could not be further from the truth.
We saw yesterday that the Old Testament sacrifices had to be repeated over and over. Why? Because those animal offerings were only a substitute for what was truly required — a completely perfect sacrifice. This was accomplished in the work of Jesus Christ. He presented Himself as the once-for-all atoning sacrifice for every sin of every individual who ever had or ever would live. As the hymn lyrics state, Jesus — through His one incredible sacrifice — truly "paid it all."
Think about it. In the human system, a high priest took an animal into the temple and offered it as a sacrifice to God on behalf of the sinner. In Christ's work, however, the Son of God entered not a temple, but heaven itself, and presented Himself to the Father as the perfect atoning sacrifice (Hebrews 9:14).
This means that the work of forgiveness is done. If you are in Christ, then the sacrifice has already been paid for your sin. So, when the Holy Spirit brings conviction, deal with the matter immediately and then move on. Do not carry a yoke of unforgiveness that Jesus has already lifted from your shoulders.
 
FEATURED RESOURCE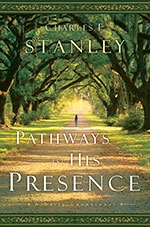 Pathways to His Presence
from Dr. Charles Stanley
Dr. Stanley's new daily devotional, Pathways to His Presence, focuses on 12 spiritual pathways each month — including forgiveness, prayer, victory, and peace — that will guide you confidently into the presence of God. As you journey along, you will join a long list of biblical heroes who chose to place their lives in the hands of God and obey His call. By doing so, they came to know the Lord more intimately and accomplish great and mighty things in His name. Spending time with the Father each day will not only provide guidance for your life, but will make you more like Him! Order here now!
FEATURED RESOURCE
How to Let God Solve Your Problems
from Dr. Charles Stanley
In How to Let God Solve Your Problems, you will discover not only how to handle adversity but how to live beyond your deepest hurts through faith and trust in the one Person who will never leave you. Order here now!
To see more resources from In Touch Ministries, please visit us at www.intouch.org  or go directly to our bookstore at In Touch Ministries.