In Touch Daily Devotional 
by Dr. Charles Stanley
---
September 21, 2006
Jesus—God's Perfect Gift
Jesus is God's precious and perfect gift to us. Heaven sent, the present was willingly given at great cost because we were in desperate need. God fashioned a gift that is:
Universal and Personal. The Father offers salvation through Jesus to the whole world, one person at a time (John 3:16). Whoever receives Him discovers His unlimited worth.
Preventive. When Jesus becomes our personal Savior, we are granted forgiveness and are set free from condemnation for our sin (Romans 8:1). This divine gift prevents us from having to face eternal death, which would mean permanent separation from God.
Eternal. What Jesus brings us lasts forever. From the day of salvation, Christ's Spirit indwells us and remains with us. As permanent members of God's family, we have an inheritance in heaven that can neither spoil nor perish (1 Peter 1:3-5).
Full of Love. Unconditional love motivated the Father to sacrifice His Son in our place. Not a single one of us deserved it. At some point, we have all sinned (Romans ) — that is, we have turned away from God to follow our own desires. In spite of who we are, God set His affection on us and proved it through the life and death of His Son Jesus. His love rescues us from bondage to sin and transforms us into the people He designed us to be.
If you have not accepted God's offer of salvation through Jesus, today can become your spiritual birthday. If you already belong to God's family, you know the value of the present. Won't you tell someone today about this marvelous gift?
 
FEATURED RESOURCE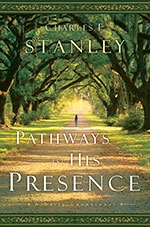 Pathways to His Presence
from Dr. Charles Stanley
Dr. Stanley's new daily devotional, Pathways to His Presence, focuses on 12 spiritual pathways each month — including forgiveness, prayer, victory, and peace — that will guide you confidently into the presence of God. As you journey along, you will join a long list of biblical heroes who chose to place their lives in the hands of God and obey His call. By doing so, they came to know the Lord more intimately and accomplish great and mighty things in His name. Spending time with the Father each day will not only provide guidance for your life, but will make you more like Him! Order here now!
FEATURED RESOURCE
How to Let God Solve Your Problems
from Dr. Charles Stanley
In How to Let God Solve Your Problems, you will discover not only how to handle adversity but how to live beyond your deepest hurts through faith and trust in the one Person who will never leave you. Order here now!
To see more resources from In Touch Ministries, please visit us at www.intouch.org  or go directly to our bookstore at In Touch Ministries.