In Touch Daily Devotional 
by Dr. Charles Stanley
---
September 26, 2006
God's Response to Sinful Behavior
Despite appearances, evil men are not in control of our world; God is. How does our sovereign God respond to sin?
At times He allows sin to run its full course. After the Exodus, He promised Israel abundant blessings if they were obedient (Psalm 81:10). When they persistently disobeyed, He "gave them over to the stubbornness of their heart" (Psalm 81:12). God remained in control but chose to let the nation experience the consequences of continued rebellion. He deals with individuals the same way (Romans 1:24, 28). Apart from Jesus Christ, the end result of sin is eternal death (Romans 3:23).
At other times, God stops the sinful behavior completely. When Abraham lied about Sarah being his wife, the king of Gerar brought her into his household for himself. Abraham's Lie — "she is my sister" — put the king at risk. God intervened and prevented any further sinful action from taking place. For believers, God limits the intensity, scope, and time we have to deal with a particular temptation (1 Corinthians 10:13). For those who have rejected Jesus Christ, there is no such promise.
To believe God is sovereign, we must embrace certain truths: His thoughts and ways are superior to ours (Isaiah 55:8-9); He always keeps His promises (2 Corinthians 1:20); His perfect character is unchanging (James 1:17); He has control over everything, including times of blessing and disaster (Isaiah 45:7).
The next time you are confronted with the effects of sin, remember these important truths, and look to God with trusting faith.
 
FEATURED RESOURCE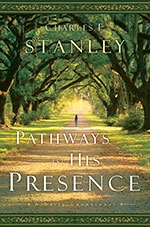 Pathways to His Presence
from Dr. Charles Stanley
Dr. Stanley's new daily devotional, Pathways to His Presence, focuses on 12 spiritual pathways each month — including forgiveness, prayer, victory, and peace — that will guide you confidently into the presence of God. As you journey along, you will join a long list of biblical heroes who chose to place their lives in the hands of God and obey His call. By doing so, they came to know the Lord more intimately and accomplish great and mighty things in His name. Spending time with the Father each day will not only provide guidance for your life, but will make you more like Him! Order here now!
FEATURED RESOURCE
How to Let God Solve Your Problems
from Dr. Charles Stanley
In How to Let God Solve Your Problems, you will discover not only how to handle adversity but how to live beyond your deepest hurts through faith and trust in the one Person who will never leave you. Order here now!
To see more resources from In Touch Ministries, please visit us at www.intouch.org  or go directly to our bookstore at In Touch Ministries.