In Touch Daily Devotional 
by Dr. Charles Stanley
---
September 29, 2006
Salvation: The Work of Our Sovereign God
Salvation refers to the freedom gained when God rescues a person from slavery
to sin and makes him or her part of His family. This deliverance is accomplished only through His Son Jesus, who died in our place so we might be reconciled to the Father (Colossians 1:22). This statement often evokes questions:
1. What if I try to live morally right, working hard at my job and being good to my family— won't God accept me? Such questions assume that the Lord saves us on the basis ofthe way we live. But Romans says, "There is none righteous, not even one." In God'ssight, even our righteous acts are like dirty rags (Isaiah 64:6 NIV). Holy God will not have dealings with unrighteous people apart from Jesus Christ.
2. Won't the Lord accept us because of His goodness? God is loving and good, but He isalso just. He won't overlook sin, no matter how small we think it is. Pride makes usreject the idea that we need forgiveness or cleansing from sin.
3. If we serve in our church or help the poor in God's name, aren't we part of His family? Good works do not solve our sin problem or reconcile us to God. Only Jesus does (Romans 5:1). Good works are an important result of salvation, not a basis for it.
Salvation is a work of God's grace, not the product of man's effort. When we respond to the Spirit's prompting, believe in Jesus, and are born again as God's children (John 3:3), we can be assured of our place in heaven. How sure are you?
 
FEATURED RESOURCE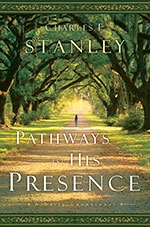 Pathways to His Presence
from Dr. Charles Stanley
Dr. Stanley's new daily devotional, Pathways to His Presence, focuses on 12 spiritual pathways each month — including forgiveness, prayer, victory, and peace — that will guide you confidently into the presence of God. As you journey along, you will join a long list of biblical heroes who chose to place their lives in the hands of God and obey His call. By doing so, they came to know the Lord more intimately and accomplish great and mighty things in His name. Spending time with the Father each day will not only provide guidance for your life, but will make you more like Him! Order here now!
FEATURED RESOURCE
How to Let God Solve Your Problems
from Dr. Charles Stanley
In How to Let God Solve Your Problems, you will discover not only how to handle adversity but how to live beyond your deepest hurts through faith and trust in the one Person who will never leave you. Order here now!
To see more resources from In Touch Ministries, please visit us at www.intouch.org  or go directly to our bookstore at In Touch Ministries.