In Touch - Sept. 30, 2006
In Touch Daily Devotional 
by Dr. Charles Stanley
---
September 30, 2006
God is in Control of Our Salvation
God's sovereignty extends over all things. Because He is omnipotent (all powerful), no plan of His can be stopped (Luke 1:37). He is also omniscient (all knowing), so nothing is hidden from His sight (Hebrews 4:13). What's more, He is omnipresent, which means that all things exist in His presence (Psalm 33:13-15; Colossians 1:16-17). Everything in both the natural and spiritual realms — including our salvation — are under His complete control.
The Scriptures describe mankind as having hearts that are deceitful (Jeremiah 17:9), minds that suppress truth (Romans 1:18-19), and wills that have turned away from the Lord (Isaiah 53:6). God, however, is continually seeking us. He's issued a universal call inviting everyone to freely come to Him (John 3:16). He has declared it isn't His will that anyone perish (2 Peter 3:9), nor does He take pleasure in the death of the wicked (Ezekiel 33:11). He desires that all come to a knowledge of the truth — namely, that there is just one God, sin separates us from Him, and only faith in Jesus reconciles us to Him (1 Timothy 2:4-6).
But Scripture teaches that none of us seek God (Romans ); we can take no credit for our salvation. The desire to know Him comes through the Spirit's work of convicting hearts of sinfulness and providing the faith to believe in Jesus as Savior (Ephesians 2:8). Salvation is all of God from first to last.
The heavenly Father chose a people for Himself from among the ungodly (Ephesians 1:11 NIV; Romans 4:5). Ask the Holy Spirit to help you grasp the immensity of divine grace, love, and mercy.
 
FEATURED RESOURCE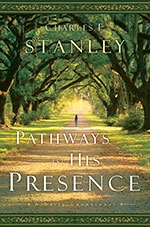 Pathways to His Presence
from Dr. Charles Stanley
Dr. Stanley's new daily devotional, Pathways to His Presence, focuses on 12 spiritual pathways each month — including forgiveness, prayer, victory, and peace — that will guide you confidently into the presence of God. As you journey along, you will join a long list of biblical heroes who chose to place their lives in the hands of God and obey His call. By doing so, they came to know the Lord more intimately and accomplish great and mighty things in His name. Spending time with the Father each day will not only provide guidance for your life, but will make you more like Him! Order here now!
FEATURED RESOURCE
How to Let God Solve Your Problems
from Dr. Charles Stanley
In How to Let God Solve Your Problems, you will discover not only how to handle adversity but how to live beyond your deepest hurts through faith and trust in the one Person who will never leave you. Order here now!
To see more resources from In Touch Ministries, please visit us at www.intouch.org  or go directly to our bookstore at In Touch Ministries.