December 24 
The Celebration of Christmas 
Luke 2
Imagine that you're one of the Bethlehem shepherds, and you are traveling forward in time to 2009 so you can witness celebration of the Messiah's birth. What an amazing privilege to see people all over the world commemorating the event that changed your life—and to know that it has transformed the lives of countless others over the last 2,000 years.
Now, consider the shock of observing the elaborate traditions that have come to be associated with Christmas. To a first-century shepherd, these customs would seem extravagant. In fact, he might have a hard time figuring out what many of them have to do with the birth of Christ.
My purpose is not to tell you how to celebrate Christmas. The things we do, places we go, and ways we decorate are not the issue—appropriate merriment pleases God (Prov. 17:22 nkjv), who even gave the Israelites festivals to observe. In fact, Christians, of all people, have the greatest reason to rejoice over Jesus' nativity. But occasionally, we would be wise to examine our own unique set of Christmas traditions to determine if they are beneficial. Consider whether they are enjoyable or stressful. Do they remind you of Christ or cause you to forget Him in the rush of activity?
With each passing year, increasing expectations of what Christmas is "supposed to be" can steal the joy of Christ's birth. This year, pause to look at this season through a shepherd's eyes. Spend time reading about the Savior in Scripture, delighting in Him, and glorifying God for His good gift.
For more biblical teaching and resources from Dr. Charles Stanley, please visit www.intouch.org.
Click here to watch Dr. Charles Stanley & In Touch Ministries Video Online
and
click here to listen to Dr. Stanley at OnePlace.com.
FEATURED RESOURCE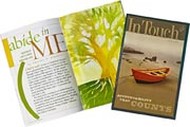 In Touch Magazine
Stories that Inspire, Teaching that Renews
If you like Dr. Charles Stanley's radio program, TV broadcast and books, then you'll love his free, award-winning monthly magazine. It's full of informative resources that will touch your heart and invigorate your faith. Every month, In Touch magazine brings readers daily devotionals from Dr. Stanley, in-depth Bible studies, inspiring articles and insightful teaching to help strengthen your family and your relationship with God. Click below to start your free subscription to In Touch magazine. 

Used with permission from In Touch Ministries, Inc. © 2009 All Rights Reserved.