Maximizing Shareholder Value
By: Rick Boxx
April 17, 2013
Business schools may be hurting more than they are helping when it comes to teaching students business responsibilities. Based on an Aspen Institute survey, 60% of new MBA students believe maximizing shareholder value is the primary responsibility of a business. By the time these same students reach the midpoint of their education that number rises to 69%.
Focusing on shareholder value is important, but making it primary overlooks customers, our social responsibilities, and fulfilling the mission of the organization. Unless, you realize that God is the ultimate Shareholder.
Psalm 24:1 claims, "The earth is the Lord's, and everything in it, the world, and all who live in it."
Maximizing shareholder value may be the world's purpose for business, but to God that's only true if you realize Him to be the shareholder.
To determine how well you are living your faith at work take our free FIRE assessment
John Dickerson's The Great Evangelical Recession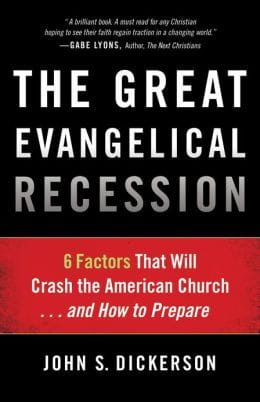 Nationally-awarded journalist John S. Dickerson assembles and interprets studies from dozens of leading researchers-both secular and Christian. After demonstrating the undeniable decline of Christianity in the U.S., Dickerson builds a Biblical case for course correction. Click here for more information.
"How well are you modeling Faith, Integrity, Relationships, and Excellence in your work? Find out by taking Integrity Resource Center's free FIRE Assessment!"
Contact Rick Boxx at www.integritymoments.org, and to learn more about Integrity Resource Center go to integrityresource.org.