Courageous Steps
In 2001, I spent time fasting, praying and journaling. Through my journaling, God directed me to form Integrity Resource Center and take some courageous steps outside my comfort zone.
One of those steps was to host events to introduce people to faith at work stories. Since I had never hosted an event, it was very uncomfortable and required courageous faith.
Remarkably, over 15,000 people have now been reached through our events and over 3,500 have made a covenant to do business God's way.
Hebrews 11:6 teaches, "And without faith it is impossible to please God, because anyone who comes to him must believe that he exists and that he rewards those who earnestly seek him."
Don't shy away from what God asks of you. Pleasing God requires courageous faith.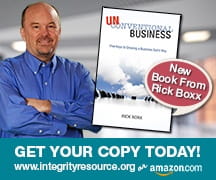 Learn more about Rick Boxx and Integrity Resource Center