A Shepherd's Heart
By:Rick Boxx
August 31, 2016
Some friends explored buying a company, but due to safety issues in the plant, they decided to pass. Several years later their management team revisited the discussion.
One of their leaders proclaimed, "That plant would be safer the day after we buy it, because we care." Their compassion for the people drove them to reconsider, and ultimately buy the other business. The employees are much safer today.
God modeled compassion in Ezekiel 34:27-28, "They shall know that I am the Lord, when I break the bars of their yoke, and deliver them from the hand of those who enslaved them. … They shall dwell securely, and none shall make them afraid."
Sometimes God calls us to invest in others, even if the return isn't as high as we might like.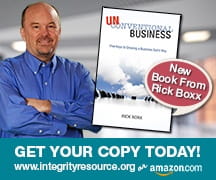 Learn more about Rick Boxx and Integrity Resource Center