Examining the Fruit
By: Rick Boxx
December 14, 2012
December is a month when I typically examine how well we are doing as an organization compared to our goals and plan. Many business leaders do the same and make adjustments where necessary.
In Jesus' day, that meant examining the fruit of your orchard. Luke 7 teaches, "Every good tree bears good fruit, but a bad tree bears bad fruit. A good tree cannot bear bad fruit, and a bad tree cannot bear good fruit."
As we push towards the end of the calendar year, you may want to take a moment and examine the fruit of your labors. Over the next few days, I'll be examining and sharing about the fruits of Integrity Resource Center as we help others learn, model and teach God's principles in their workplace.
To help others learn how to practice Gods principles, support Integrity Resource Center on a monthly basis.
Joel Manby's Love Works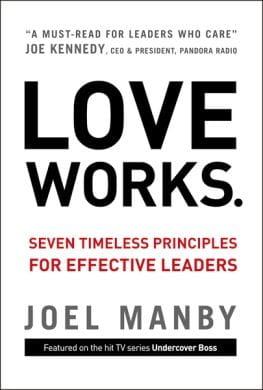 Manby challenges leaders to allow integrity and faith to guide leadership decisions, outlining seven time-proven principles that break down the natural walls within corporate cultures, and cultivating an atmosphere that builds long-term success. Purchase here.
"How well are you modeling Faith, Integrity, Relationships, and Excellence in your work? Find out by taking Integrity Resource Center's free FIRE Assessment!"
Contact Rick Boxx at www.integritymoments.org, and to learn more about Integrity Resource Center go to integrityresource.org.