Modeling God's Principles
By: Rick Boxx
December 20, 2012
At Integrity Resource Center our mission is to glorify God by helping others learn, model, and teach God's principles in their workplace. One of the ways we help others model these principles is through our counseling ministry.
Recently, Teresa's business was named Small Business of the Year. She wanted her acceptance speech to give glory to the Lord for their excellent service.
She contacted us for help. After our dialogue she crafted an acceptance speech that powerfully gave God honor while being respectful of all.
Colossians 3:17 teaches, "And whatever you do,whether in word or deed, do it all in the name of the Lord Jesus, giving thanks to God the Father through him."
To truly model God's principles you need to tie your words and your actions together.
Integrity Resource Center can help train your team or consult with your organization on shaping a biblically based culture. Learn more.
Joel Manby's Love Works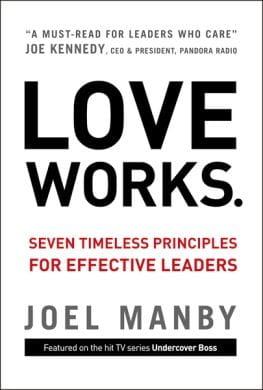 Manby challenges leaders to allow integrity and faith to guide leadership decisions, outlining seven time-proven principles that break down the natural walls within corporate cultures, and cultivating an atmosphere that builds long-term success. Purchase here.
"How well are you modeling Faith, Integrity, Relationships, and Excellence in your work? Find out by taking Integrity Resource Center's free FIRE Assessment!"
Contact Rick Boxx at www.integritymoments.org, and to learn more about Integrity Resource Center go to integrityresource.org.