Listening Closely
By: Rick Boxx
December 3, 2012
For our first night in Manhattan, Don, Greg and I ate dinner at a great Italian restaurant in Times Square. Their menu was unique in that one price fed 3-4 people!
We were so hungry that when a server walked by with an enticing filet mignon we were sold. We thought the server said $46 for the steak, but we were more focused on the filet than the answer.
When the bill came we learned that the filet was $75, and that the server had told us 46 ounces of meat, rather than $46.
Proverbs 18:13 teaches, "He who answers before listening— that is his folly and his shame."
The steak was worth it, but part of listening requires gaining understanding. In our workplace, we need to understand before answering.
Are you maximizing the use of your God given talents at work? Join us December 6th for our "Maximizing Your Calling" webinar to experience the joy of unleashing your potential.
Mike Frank's Prosperity with Purpose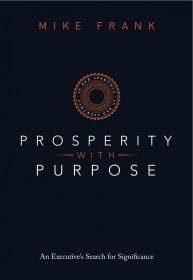 "If you are an executive that thrives on business but are thirsting for more, this book may be your story as well. I can't give you the formula for success, but I can show you how to live a life of relentless purpose…which may or may not include profound wealth". Click here to learn more.
"How well are you modeling Faith, Integrity, Relationships, and Excellence in your work? Find out by taking Integrity Resource Center's free FIRE Assessment!"
Contact Rick Boxx at www.integritymoments.org, and to learn more about Integrity Resource Center go to integrityresource.org.